Lemon-Infused Fish and Vegetables
Prep 10 mins
Cook 15 mins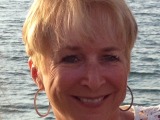 Steaming fish with veggies in individual packages is not only healthy, it makes assembly and cleanup a breeze. You can use foil in place of the parchment paper. Orlando Sentinel, 2/2010. I like to add herbs to this; dill if cooking salmon, other fresh herbs if using a white fish. This is a very basic recipe you can customize to your individual tastes and it is very low in calories, fat, and sodium.
Directions
Heat oven to 425 degrees. Tear four lengths of parchment paper or foil, each about 18 inches long. Fold each length across in half; unfold. Divide lemon slices among parchment pieces, piecing them in a row; top with fish. Place vegetables beside the fish.
Whisk together the olive oil, lemon juice and salt; drizzle over the fish. Crimp or fold over the edges to form sealed packets. Place packets on two baking sheets.
Bake until the packets are puffed and fish is cooked through, 12-15 minutes. transfer packets to serving plates. Cut the top of the packets open carefully (to avoid the escaping steam). Serve.
Most Helpful
Made this for Zaar Alphabet Soup Tag game....easy and delicious. I used cod and julianned zucchini, red pepper and of course onions and garlic. Delicious is all I can say and I will definately put this in my Favorites of 2010. Thank you.
That tasted great! I took your suggestion and made some flounder with onions and tri-color peppers and a couple dashes of mediterranian basil and two sprigs of thyme and a splash of red wine vinegar and reisling wine (I didn't have lemon) plus the other ingredients you mentioned and it turned out very moist and full of flavor! It will definitely be used for future salad and fish nights! I can't wait to try it with asparagus! Thanks!