Lemon Herbed Chicken Satay
Derf2440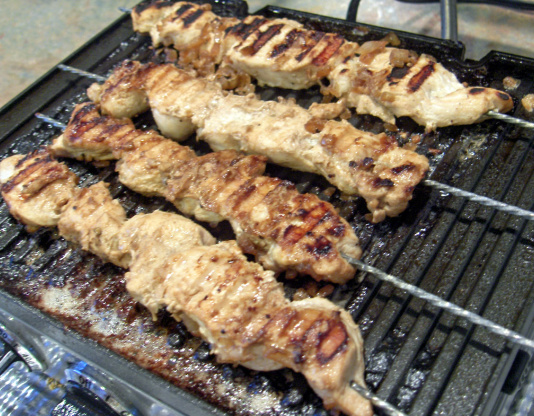 This is one of my favorite recipes for the grill. Serve with fresh fruit and all your favorite summer salads. Leftovers make a wonderful chicken salad.

mmm mmm very delicious! we loved them. Just the right amount of herbs and spice. Made it for Sunday dinner with a baked potato and broccoli. I was only able to marinate them for about 8 hours, but they were sooo good, next time I will do them up the night before. Thanks for posting!!
Remove any fat or gristle from the chicken.
Cut the chicken on the bias into 1/4-inch-thick slices.
Place the slices in a glass baking dish.
In a bowl, stir together the lemon juice, oil, brown sugar, soy sauce, garlic, onion, cumin, coriander, ginger, and salt and freshly ground black pepper.
Pour the marinade over the chicken, turning it in the sauce until it is well coated.
Cover the dish with plastic wrap and refrigerate at least 8 hours or preferably overnight.
Soak 8 10-inch bamboo skewers in cold water for 20 minutes.
Thread the chicken pieces over the skewer, pushing the meat up so that you can fit 2 to 3 pieces on each.
Carefully place the skewers on a grill grid that has been sprayed with a vegetable spray and cook through.
Arrange the skewers on a platter and serve chicken at once.