2Bleu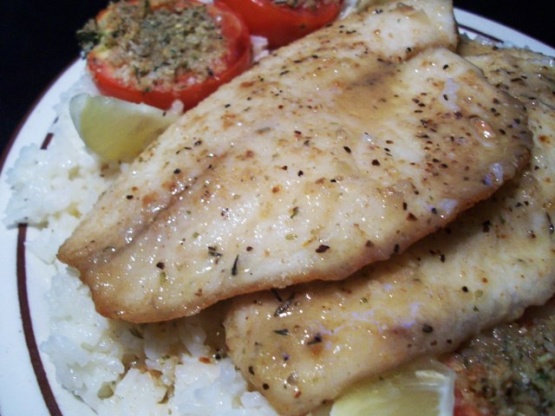 I adapted this simple recipe from Sara Moulton. Please note that the herbs and salt are divided - part for the fish and part for the sauce. You can use dried or fresh herbs, and you can use any light fish. The dried herbs I use are Herbes de Provence (a blend of thyme, marjoram, rosemary, basil, fennel, sage, and lavender) I'm sure various combinations will work. Or you can use 1/2 TBS each fresh chopped herbs: chives, chervil, parsley and tarragon from the original recipe.

I used flounder and dried Italian Seasoning along with the lemon. This is a simple yet delicious and packed full of flavors that I love. My wife enjoyed it as well and complimented me on my special Valentine's dinner to her. Served with lemon rice and a medley of mixed vegetables it was greatly enjoyed.
Combine flour, half the herbs, and half the salt.
Season the fish with additional salt and pepper, then dredge in flour mixture to coat, shaking off the excess.
Heat 1 TBS butter in a large skillet over moderately high heat and cook fish 3 minutes on each side. Remove from pan.
Reduce heat to moderately low and add butter pieces and simmer until a light golden brown, about 5 minutes.
Remove skillet from heat and stir in lemon juice, remaining herbs, salt and pepper to taste.
Pour over fish fillets.