Lemon-Herb Chicken & Rice Bake
katii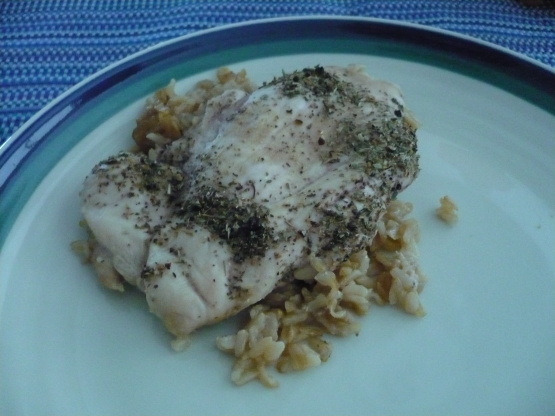 This dish was an experiment, which resulted in a flavorful success. The chicken breasts turned out very moist and perfectly seasoned, and the rice was just right with a light lemon flavor.

Not bad, pretty easy too. I forgot to pound the chicken but it was fine anyway. Skipped the wine, doubled the lemon, and added a 1/2 cup or so of Greek yogurt along with another couple of cups of various frozen veggies. (It was use up random stuff day.) I used equal parts brown, red, and white rice. Weirdly enough, it was the white rice that took longer to cook...probably because I soaked the brown and red rices for an hour or so first, but not the white rice, thinking it wouldn't need it. Next time I think I"ll just skip the soaking part and just let it bake a while longer. If the breasts aren't pounded they take longer anyway so it all works out. I also kind of buried the chicken breasts inside the rice while baking.
Preheat oven to 375°F.
In a baking pan, stir butter and rice until rice is thoroughly coated. Then stir in chicken broth, white wine and lemon juice.
In a small bowl, combine garlic powder, basil, oregano, salt and pepper. With this mixture, evenly season both sides of chicken breasts.
Place chicken breasts atop rice mixture.
Tightly cover baking pan with aluminum foil.
Bake for 30 minutes or until the rice has absorbed all of the liquid, and chicken juices run clear when breasts are pierced.