Lemon Grilled Fish in Banana Leaves
Rita1652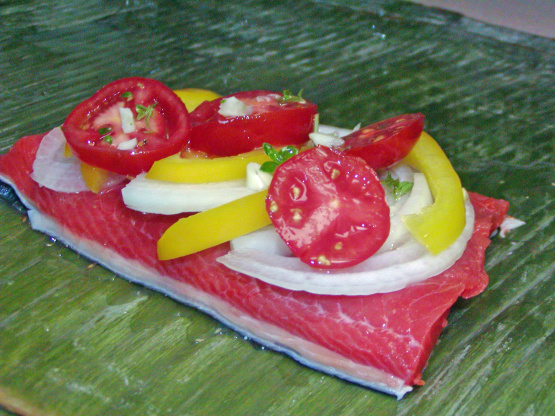 Adapted from the Queer Eye TV show; stored here for me to try later. You can substitute scallions for the onion if you prefer.

I made this with my favorite fish salmon. I used 3 tablespoons of the lemon and oil mixture. Didn`t need more then that. I also made this dish easier then directed. I put all the vegies (Except for the carrots which I didn`t have) right on the fish then double wrapped in plenty of banana leaves. They did burn so it was good I used more then called for. I didn`t serve with the leaf because it was burnt and unappealing. But this was delish! I enjoyed the scent of the banana leaf throughout the fish. the vegies had the prefect texture.
1⁄4 cup lemon juice
1⁄2 cup extra virgin olive oil

1

tablespoon fresh thyme leave, minced
salt, to taste
pepper, to taste

4

(8 ounce) red snapper or 4 (8 ounce) halibut fillets

16

lemon slices

8

sprigs fresh thyme

4

banana leaves, washed, soaked in water and cut into 10-by-12 inch rectangles

1

tablespoon extra virgin olive oil

1

garlic clove, minced

1

cup onion, sliced into thin strips

1

cup yellow pepper, sliced into thin strips

1

cup carrot, sliced into thin strips

1

cup tomatoes, sliced thinly
Heat grill to medium.
In a small bowl, whisk the lemon juice with ½ cup olive; add thyme, salt and pepper.
Brush both sides of fillets generously with lemon mixture and place each in a banana leaf.
Place 4 lemon slices and a sprig of thyme on each fillet.
With the short side of the leaf facing you, fold bottom edge over fish; fold sides over fish, then fold package away from you to envelop the fish.
Secure each packet with 3 wet toothpicks or tie like a girtbox with a wet piece of string.
Cook the fish packets on grill, about 6 minutes per side ( the leaves will brown, which is OK).
While the fish grills, sauté garlic in 1 Tbs olive oil over medium-high heat about 1 minute.
Add the onions through tomatoes and sauté about 5 minutes until vegetables are tender; season with salt and pepper.
To serve, put a fish packet in the center of each plate, open the leaf and spoon vegetables around fillet.