Derf2440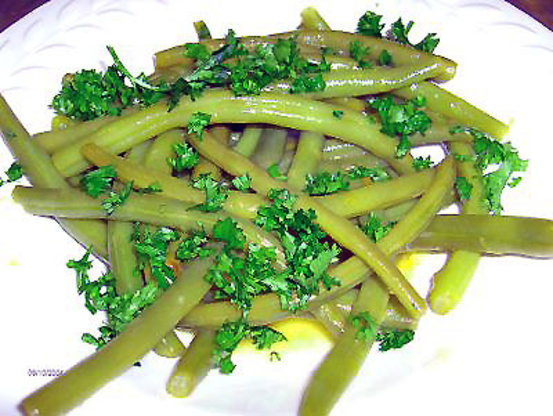 Excellent Miller!!!Couldn't get fresh beans, so I used canned whole green beans, I guess that added a bit of salt, but I did rinse them. I'll look forward to when the fresh green beans come out around here and do these again, they went very well with Bergy's Spicy ginger/orange chicken, we had a citrus night! This is a keeper, thanks for sharing!! — posted May 6, 2002,2 members found this helpful UPDATE: Made these beans for supper tonight, used fresh beans this time and it did make a difference, lovely recipe, thanks Miller for another good one!!
Place beans in a steamer basket over boiling water.
Cover saucepan and steam 5-7 minutes or until green beans are tender; rinse under cold water and drain.
Combine water and lemon juice in a heavy nonstick skillet over medium heat.
Simmer 2-3 minutes or until reduced by half; stir in butter.
Add green beans and lemon peel; simmer 3-4 minutes or until green beans are heated throughout.
Remove from heat; add parsley and salt to taste and toss.