Jubes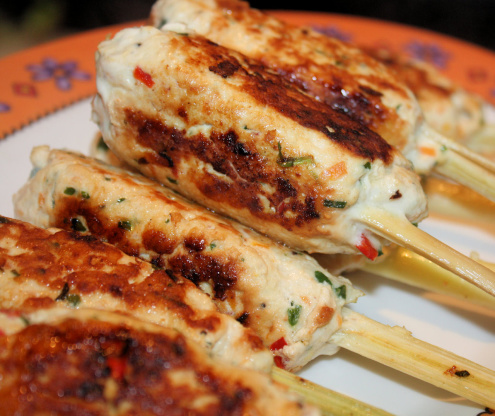 This recipe is from a great cookbook, Quick and Easy Thai. Also included in the Zaar World Tour 2005 swap, Asia.

This was yummy. I used a dipping sauce with it bc i thought it needed it for my tastes but it was terrific alone as well. Next time i might add some chopped lemon grass right into the mixture as well.
2

stalks lemongrass, long or 4 short stems

2

chicken breasts, skinless and boneless about 14 ounces total weight

1

egg white, small

1

carrot, finely chopped

1

chile, red, small, deseeded, and chopped

2

tablespoons garlic chives, fresh and chopped

2

tablespoons cilantro, fresh and chopped

1

tablespoon sunflower oil
salt, to taste
pepper, to taste
cilantro, garnish
lime slice, garnish
If using the long lemon grass stems, cut in half across the middle to make four short stems for a total of eight stems.
Coarsely chop chicken in a food processor and add egg white. Process to make a smooth paste. Add carrot, chile, chives, cilantro, salt and pepper and process to mix.
Place mixture in refrigerator to chill, about 15 minutes. When chilled, divide mixture into eight equal portions. Using your hands, shape the portions around the lemon grass stems. The lemon grass stem will be the "skewer" for the chicken mixture.
Preheat broiler to medium hot, brush skewers with oil and broil approximately 4-6 minutes. Turn them occasionally until golden brown and cooked thru. These skewers can also be grilled over medium hot coals.
Garnish with cilantro and slices of lemon (optional) and serve immediately.