PaulaG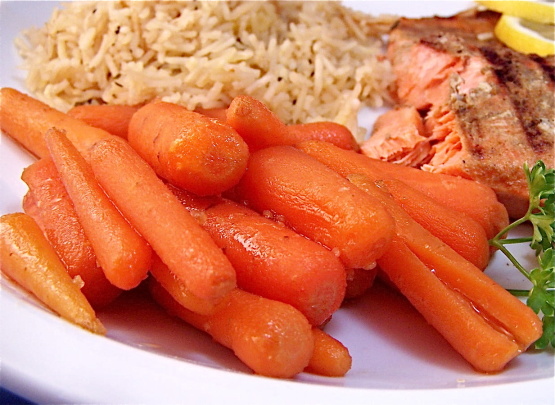 This makes a perfect side dish for a Turkey dinner. It's the ONLY way I can get my in-laws to eat carrots. I prefer to steam the carrots, but you can boil them if you don't have a steamer. You can also slice regular carrots if you don't have baby carrots. If you don't have a lemon zester tool, you can use the fine side of a grater.
Top Review by PaulaG
Lightly sweetened carrots is one of DH's favorite dishes. This was super quick since the carrots were microwaved. The butter, brown sugar and lemon peel was added to the cooked carrots and allowed to stand until melted. Everything was transferred to a saucepan and cooked just until lightly glazed. I did reduce the brown sugar by half but that is my personal preference. Made for *PAC Spring 2009*
Steam or boil carrots 35-45 minutes.
Melt butter and mix in pepper, sugar and lemon zest.
Keep warm and stir 3-5 minutes or until sugar dissolves.
Pour over carrots and serve.