Rita1652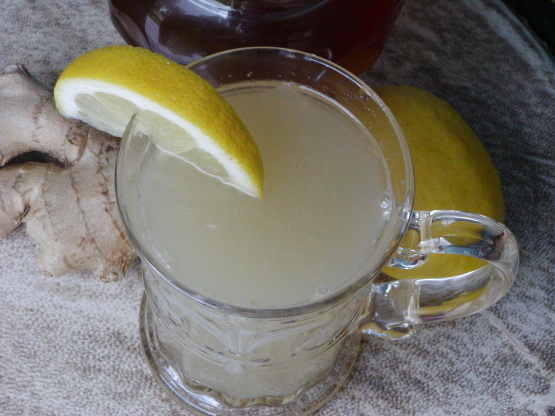 I love this tea. It's very refreshing. The "tea" in this case refers to the infusion process used.

I grated the ginger (half the amount called for) in my vita mix. I was going to make half but a 1/2 pound was just to much for a half gallon of water so I ended up with a gallon. Step #2 doesn't say how much water to use so I used 2 quarts and steep for 3 hours. I would recommend at least twice the amount of lemon juice and honey.I froze the strained grated ginger to use in soups, stir frys,...This is great for upset bellies, colds and just make you feel good.
Grate or thinly slice ginger root (no need to peel).
Steep in boiled water for at least 3 hours (more if you can stand to wait that long). I like to use my french press coffee maker, but use what you have on hand.
Pour strained liquid into 1 gallon pitcher, adding lemon juice and sweetener.
Add enough cold water to make 1 gallon.