Lemon Ginger Almond Upside-Down Cake
awalde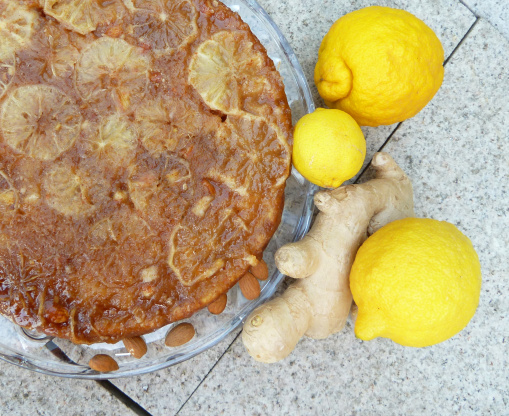 Another upside-down cake recipe passed on to me by a friend! This one I haven't yet made, but from the looks of the recipe, it should taste wonderful!

Top Review by awalde
Hi Mike,
for Mother-day I got "your" cake from my children! It was delicious and fresh!
This was a real challange for them preparing this alone (english is not our motherlanguage) and with a new technique! Your explanations were clear and the cake came out really good!
Thanks a lot for your always wonderful recipes.
Preheat oven to 350 degrees F.
Finely grate lemons for zest, then set zest aside. Remove white pith from lemons, then thinly slice, discarding seeds.
Coat 9"x9" cake pan with cooking spray.
Pour in melted butter, then arrange lemon slices in concentric pattern over butter.
Sprinkle with brown sugar & slivered almonds.
In food processor, combine whole almonds, reserved lemon zest & ginger, then pulse until combined & slightly moist.
In large bowl combine butter & sugar, beating with mixer at medium speed until fluffy.
Add egg & extracts & beat until blended.
In another bowl sift or wisk together flour, baking powder, baking soda & salt.
Add flour mixture to butter mixture alternately with buttermilk, beating at low speed after each addition.
Stir in almond mixture, then pour batter on top of lemons.
Bake 25-35 minutes until top is golden brown.
Remove from oven & cool 5 minutes on wire rack, before inverting onto serving plate.