Prep 15 mins
Cook 20 mins

These are sunny, bright and FULL of amazing lemony flavor! Are are 100% vegan! From: Veganomicon, The Ultimate Vegan Cookbook. This recipe uses rice milk for the cakes and soy milk for the frosting. I have made them using soy milk in BOTH, and they turned out just fine!
Directions
Preheat oven to 350°F.
Line a 12 muffing tin with paper liners.
Sift together flour, baking powder, baking soda, and salt.
In a separate bowl, combine oil, sugar, rice milk, vanilla, lemon juice, and zest.
Pour the dry ingredients into the wet and mix until smooth.
Fill each muffin tin about 2/3 full.
Bake cupcakes for 17-20 minutes.
Remove cupcakes from muffin tin, and place on wire cooling rack.
Frost when fully cooled.
For the frosting: Beat the margarine with a hand mixer until fluffy.
Stir in soy milk and lemon juice.
Add confectioners sugar and mix until smooth.
Frost cupcakes.
Reviews
Most Helpful
and, when i did make these as cupcakes a few different times, they were TOO DIE FOR!!! i & my fam (none of whom are vegan) are HUGE lemon fans & these were INCREDIBLE!!!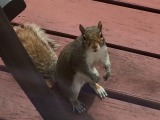 Pretty good! I was sceptical at first, because the batter was runny, and looked pale and almost unappetising after cooked. But I gave it a chance, and dressed it up with frosting to look pretty. The cake was actually really delicious, light and almost refreshing.
I made these for a big family on Easter yesterday and they were a huge hit. They were all shocked they were vegan and so very light. The cake turned out perfect, light and mild in lemon flavor. The icing was a no go the first time as it separated and went clumpy when I followed the directions to the letter. I remade the icing by mixing the sugar with just a little milk, adding vanilla and more margarine. I figured the lemon was causing the separation so I omitted that. The result was a regular vanilla buttercream atop a delicious lemon cake. Will definitely make them again!