Annacia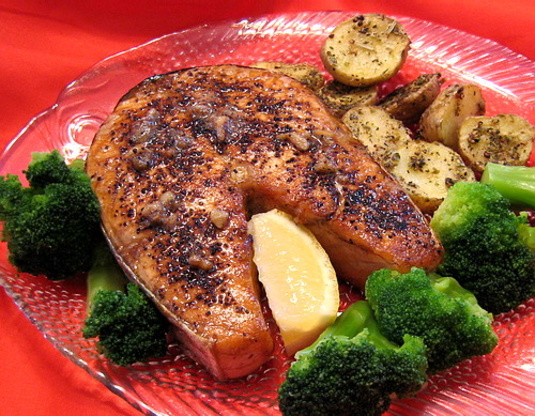 Quick, simple yet elegant. Use real butter to acquire the best flavor. Serve with lemon wedges and a sprig of parsley. Adapted from Allrecipes.

Top Review by ImPat
I used skin on salmon and cooked in a garlic butter mix I had in the freezer with a little olive oil and the lemon pepper with the skin side down first to get a nice crispy texture for about 7 minutes and then about 3 to 4 minutes on the other side to finish cooking through. Simple but fantastic flavours that meld well together. Thank you Bev for a great recipe and to Annacia for recommending it it in I Recommend Tag game.
Sprinkle salmon fillets on both sides with lemon pepper.
In a large skillet, melt butter over medium high heat; watch carefully not to burn.
Stir in garlic.
Place salmon in pan.
Cook for 10 minutes per inch of thickness, or until fish flakes when tested with a fork.
Flip fillets halfway through cooking to brown on both sides.
Sprinkle with lemon juice before serving.
Serve with lemon wedges and a sprig of parsley.
Serves 2.
**If you do not have lemon pepper available, use a little fresh lemon zest mixed with freshly ground black pepper as an alternative.