Lemon Garlic Roast Chicken
Derf2440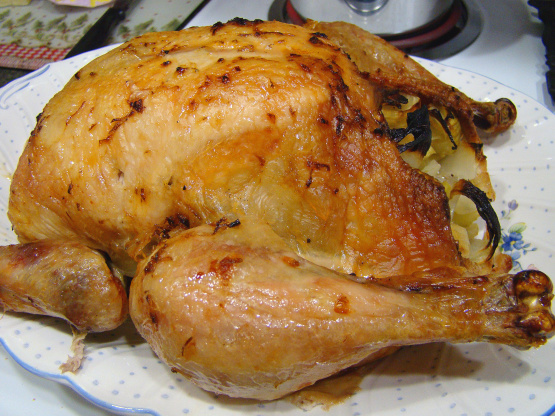 Deliciously tender and browned roast chicken stuffed with a whole head of garlic and rubbed with an olive oil/lemon mixture. Yum!

Delicious!! It came out perfectly browned with nice, crispy skin. The meat was moist and very flavorful. I skimmed the fat off the pan juices and made a very tasty gravy. This recipe is definately a keeper!
Preheat oven to 350°.
Sprinkle salt and pepper in cavity of chicken.
Combine garlic, onion and celery and stuff into the cavity.
Combine lemon juice and zest with the olive oil and brush over the skin of the chicken.
Season generously with salt and pepper.
Place chicken in roasting pan and roast for 1 hour and 15 minutes or until done.
Remove from roasting pan and let rest for 15 minutes before serving.