Bergy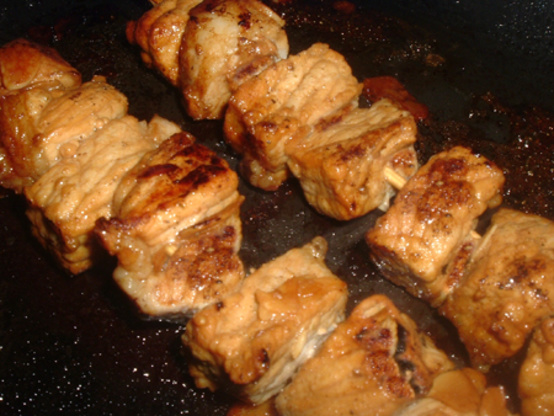 When I was a kid our butcher sometimes had a thing called "City Chicken", which was pork cubes threaded on bamboo skewers to be breaded and fried like fried chicken. I haven't seen that in years. But butcher-pack, boneless, pork loin is always cheap at Sam's Club so here's how I adapted a modern, lighter, healthier favorite for chicken to use on "the other white meat."
Mix marinade ingredients in a plastic, zipper bag.
Add pork cubes and marinate at least 1 hour but not more than 6.
Thread meat on skewers. Brush with olive oil.
Grill or broil on medium-low heat 7-10 minutes on each side or until nicely browned and just barely done. Don't over-cook or they will be dry and tough.