Lemon Garlic Dressing -Mediterranean
PaulaG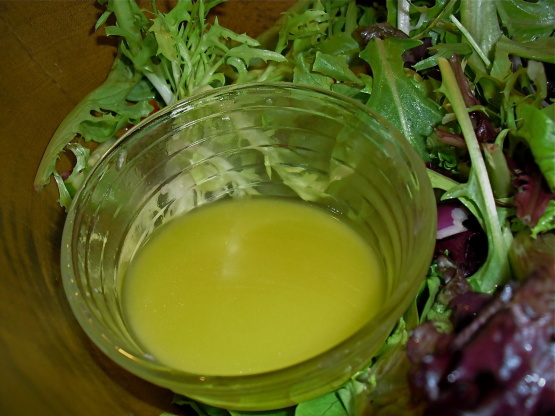 I just love this recipe, I have been putting it on everything! It is mild and fresh. Goes wonderfully on a fresh salad from the garden. It is delicious drizzled on pizza, bread, noodles etc. I found this in a cookbook by Nancy Harmon Jenkins.

Has anyone actually read this recipe? It calls for "1 tsp salt" A TEASPOON of SALT!!! Really?! If it's an error, then the previous reviewers haven't mentioned it. I did make the recipe with a dash of salt, and less oil. It was fabulous on a salad, and if I had french bread, I'm sure I would enjoy it dipped or drizzled also.
Chop garlic and place in a bowl, add salt.
Crush salt and garlic into a paste.
Add remaining ingredients stir and enjoy on whatever you like!