Lemon Fried Shrimp With Marjoram
David04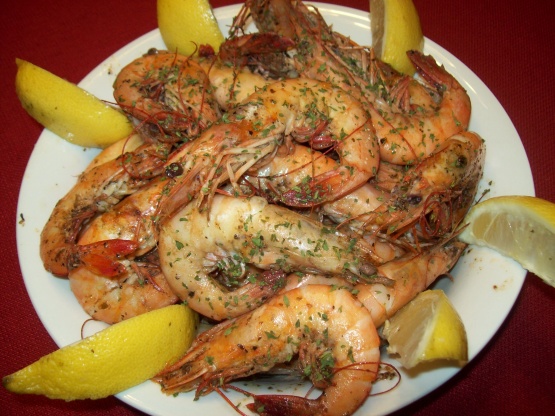 The shrimp picks up such a delicious flavor from soaking in the marinade and being cooked in its own shell. These can also be done over a grill instead of frying. My family had fun peeling and eating these until they all were gone...... The calorie and fat content are not as high as the nutritional facts show because you discard most of the marinade, which contains most of the calories and fat.

Although I don't usually serve shrimp often, we do like it & over the past month we seem to have gotten more than our usual share of it! Recipes like this are the reason ~ We thoroughly enjoyed it! I did cut way back on the amount of salt & actually used a no-salt substitute! Also used lemon pepper instead of the usual pepper! The 2 of us certainly agree that this is a recipe I must make again sometime! Thanks for posting it! [Made & reviewed in New Kids on the Block tag]
Place whole shrimp in a large shallow dish.
Whisk olive oil, lemon juice, marjoram, lemon zest salt and pepper in a medium bowl.
Pour the marinade over the shrimp.
Cover the shrimp and refrigerate up to 2 hours. Turn the shrimp to the other side half way through the marinade.
Remove the shrimp from the marinade and place in a large frying pan over medium heat.
Cook for 2-3 minutes per side.
Remove from the pan once the shrimp turn orange in color.
Season the shrimp with the salt and chopped parsley.
Garnish with lemon wedges.