Lemon-Flavored Quinoa Salad
Katzen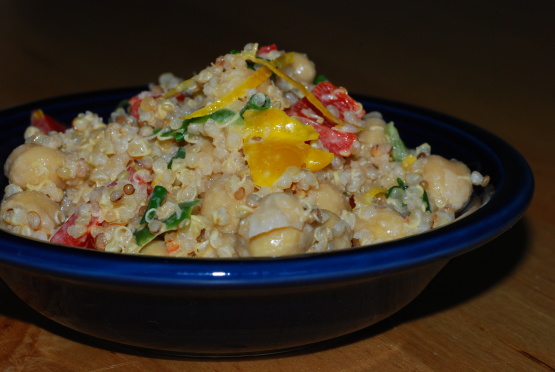 This has become one of my all time favorite recipes!!!

This was fantastic, I would definitely make this again! I lowered the oil in the dressing to about 1 tablespoon to save a few calories and because BF is not overly fond of cilantro or red onion, I only put in about 1/4 cup instead of 1/2. He still thought there was a bit too much onion but I didn't.:) Otherwise, I don't think it needed any additional salt. The two of us ate about 2/3 of it for supper with a salad, and I just finished off the rest of it for lunch. Excellent!
Rinse the quinoa in a strainer.
In a medium saucepan heat the quinoa and water to boiling.
Reduce heat and simmer until water is absorbed and quinoa is fluffy, about 15 minutes. Drain any extra water and set aside.
While the quinoa is cooking, make the dressing. Whisk together the garlic, tahini, lemon zest and juice, and olive oil. Add the hot water to thin and then add the salt.
Toss the cooked quinoa, beans, cilantro, red onion, and half of the dressing. Add more dressing if desired and season with additional salt to taste.
Serve garnished with fresh cilantro.