Calee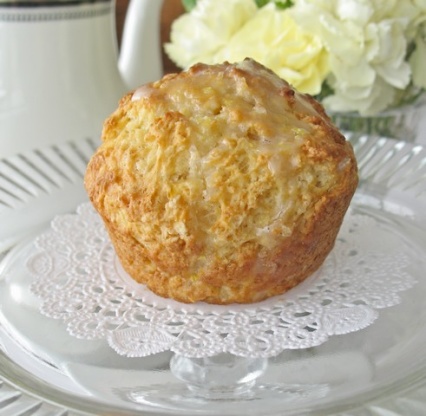 These muffins are refreshing and light but have a little something special - a lemon glaze. Note: The grated lemon peel can be omitted if you do not wish to use it.

Top Review by Calee
The lemon flavor really shines when using the grated lemon peel in the glaze. I mixed the peel and the icing together. I used a very fine grater for the lemon peel. These muffins had a crunchy texture outside but light texture inside. I got 11 nice sized muffins and they baked up in 17 minutes. Thank you for sharing this recipe. Made for the Lite and Low challenge in the cooking photo forum.
To Make the Muffins:.
Preheat oven to 400 degrees. Grease the bottoms of 12 standard muffin pan cups or line pan with paper liners. In a large bowl, combine flour, brown sugar, baking powder, baking soda, and salt.
In a small bowl, combine yogurt, butter, egg, and lemon peel; blend until well mixed. Add to the dry ingredients and stir until just moistened (the batter will be thick).
Using a spoon, measuring cup, or ladle, fill greased cups three-quarters full.
Bake until a toothpick inserted in center of muffin comes out clean, about 20 minutes. Place pan on wire rack; cool for 1 minute. Remove muffins from pan and place on wire rack; cool completely.
Making the Glaze:.
In a small bowl, combine powdered sugar and lemon juice; mix until smooth.
Drizzle glaze over each muffin. Sprinkle with lemon peel.