Nanners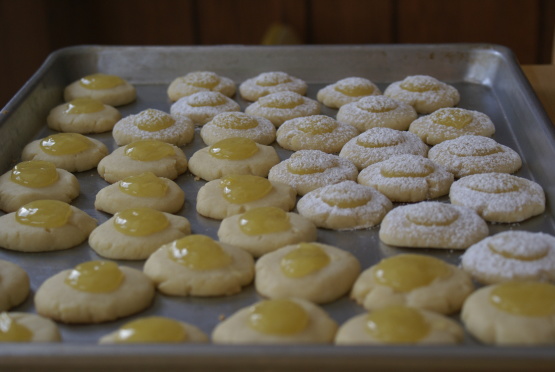 This is one of our favorite Christmas cookie recipes. It's a buttery cookie with a tart lemon curd in the center. The only drawback - they don't stack very well due to the lemon curd filling. But they don't last that long anyway in our house!! My kids love them. Note: serving size is 2 cookies.

At first I thought the cookie itself (minus the lemon curd) tasted rather plain, but by the next day I was absolutely in love with them! I do have one recommendation, however: adding a tablespoon or two of lemon zest to the cookie dough makes them even better!!
Make Cookie: Combine the 1/2 pound butter and confectioner's sugar in a mixer bowl. Beat together for 30 seconds.
Add flour and mix well.
Using 1 1/2 - 2 teaspoons dough per cookie, roll into balls and place an inch or 2 apart on a greased or parchment lined baking sheet.
Using a glass coated with cooking spray or your hand (I just use my fingers), lightly flatten the balls into a circle. Using your thumb or the back of a 1/4 teaspoon measuring spoon, create a dent in the center of each cookie.
Bake in preheated 350 oven 10-12 minutes. Remove to rack and cool.
Make lemon Curd: In a small non-reactive saucepan, combine the egg, granulated sugar, 1 1/2 T. butter, lemon juice and lemon rind. Cook over medium-low heat, stirring constantly until thick and bubbly. Or, use a double boiler. Let cool 5 minutes. Spoon @ 1/2 t. curd into dent of each cookie. Sprinkle with confectioners sugar if desired.