Lemon-Dilled Brussels Sprouts
PaulaG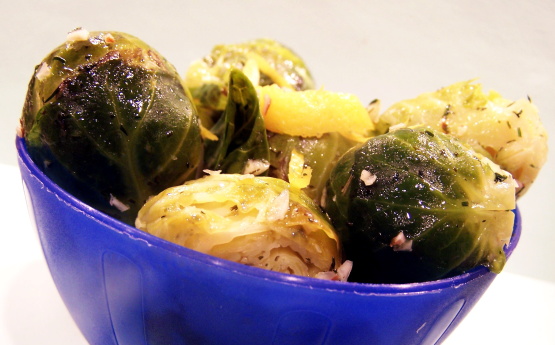 A delicious way to serve fresh brussels sprouts. Make sure that when preparing that yellowed outer leaves are trimmed away and that an X is cut in the core end with a sharp knife. October through February is the peak season for this member of the cabbage family. Select small, firm, tightly closed heads that have a bright green color.

Loved these brussels sprouts! I used the steam bag brand of vege's and dried dill weed. Forgot to add the chopped almonds but enjoyed without them. The lemon juice and dill weed are so good together and make the brussels sprouts really pop in flavor. Will be making these again! Made and reviewed for the Diabetic Forums March Into Spring Event.
Wash and trim the sprouts, cut an X in the core end.
In a large saucepan, bring 1 inch of water and the sprouts to a boil; reduce heat, cover and simmer for 10 to 12 minutes or until fork tender.
In a small microwave safe dish, melt the butter and blend in lemon juice, dill weed and lemon zest.
Drain the sprouts, return to pan and dry over heat for 1 to 2 minutes.
Pour the butter mixture over, tossing to coat, stir in chopped almonds.
Enjoy.