Lemon-Dill Salmon Patties -- OAMC
Prep 10 mins
Cook 30 mins

These tasty patties are as economical and easy to make as they are delicious. They're fork food hot with fresh lemon wedges to squeeze over them. They make great cold sandwiches on rolls with cocktail sauce or tartar sauce. My big family with teens gets a hot meal and a cold meal from this recipe but a smaller family can freeze them for later enjoyment. Note -- Cooking time depends on how many skillets you are using at once.
Directions
Bust up the salmon into flakes with a fork. I leave the bones and skin in because they pack a powerful nutritional punch.
Add the remaining ingredients, except for the olive oil or butter, and mix well. Let rest 5 minutes.
Add additional crumbs or milk if necessary to make a moist patty that holds together well.
Heat a little olive oil or butter in a skillet over medium to medium-high heat and cook patties until the first side is nicely browned. Turn and cook other side to a nice brown. Make as many batches as necessary, using 2 skillets if you have room on the stove to speed up the process.
Tip -- do not turn too soon or the patty may fall apart. Plan to turn only once.
Serve hot with lemon wedges to squeeze over them.
Serve hot or cold as a sandwich on hard rolls with cocktail sauce or tartar sauce.
Serve mini-patties as party snacks.
For OAMC I suggest wrapping patties individually and reheating them in the microwave when wanted.
Most Helpful
Mmmmm! I followed the directions exactly except for cutting the recipe to 1/4 to fit for one can of salmon. I`ve had that can in my cupboard it seems like forever so I had all the other ingredients and decided to try it. With the first bite I knew that I was going to write a five star review for you. Its going into my do again "Favorites" cookbook, thanks so much for posting.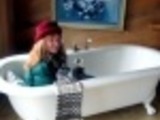 Cut recipe down to 1/4. Added onions; used lime instead of lemon and added more as lime is milder; used panko instead of crumbs; added some Miracle Whip to moisten and baked at 400 degrees for 15 minutes and flipped and baked another 10. Pretty good stuff and smelled great. Added more dillweed as well and a great idea not usually seen in salmon pancakes! Thanks for a great starter recipe. The oatmeal made it feel healthy, but not sure what effect it had on the outcome.

These are really, REALLY good! I only made two rather minor "matter of taste" changes. I cut the recipe down to 1/4 the recipe, because I wanted to experiment with a few things before freezing a huge batch. I added about 1/4 tsp. crushed red pepper flakes to the recipe, and about 2 Tsp. finely chopped onion. I fried three of them last night, and tossed one UN-COOKED into the freezer. I ate one of the fried patties last night as dinner with sides of buttered broccoli and corn....Delicious dinner! I put one of the remaining two fried patties into the freezer, the other in the refridge. The refridgerator one I took out and MW'd today and had it as a sandwich with lettuce, tomato and mayo. Another great meal. I am going to "experiement" with the two frozen patties. The fried one, I am going to try quickly re-frying after a week in the freezer. The "un-cooked" one, I'll take out of the freezer, thaw and fry it, too. I just couldn't resist frying, eating fresh, frying eating warmed in the MW, and freezing another un-cooked, the other cooked. Can't wait to see how the un-cooked one turns out after a week in the freezer. I'll edit later with the results. Thanks for a healthy, great, easy, and economical meal idea!