dicentra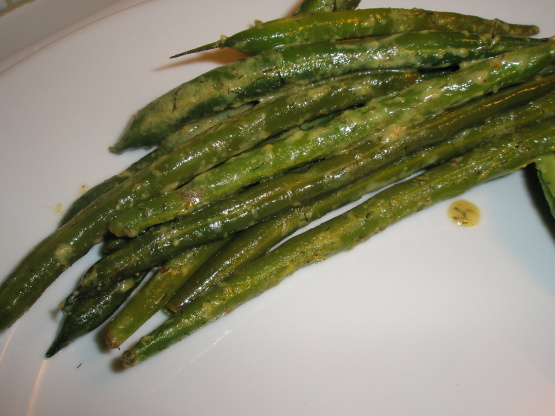 Quick and easy side dish. I really like the flavor of the dijon mustard and the dill.

This was a nice and simle side to prepare with dinner, quite tasty too!! :-) I think that the mustard and dill were a bit iffy to some, but I guess thats what happens when you try to serve something YUMMY!! to people who usually eat their veggies plain...and out of a can *blech*. hehe Thanks for the great recipe and the note about toasting almonds! That helped!!!
I usually steam the green beans for 5-7 minutes to get them a bit tender.
Melt butter or margarine in large frying pan.
Add green beans and cook on medium hight heat until coated with butter.
Add lemon juice, mustard and dill.
Toss with beans until coated well and heated through.
Check taste, add salt or pepper if desired.
Sprinkle with toased almonds before serving.
Note, almonds can be toasted in oven on a baking sheet 350 degrees for 5-7 minutes.