Bev I Am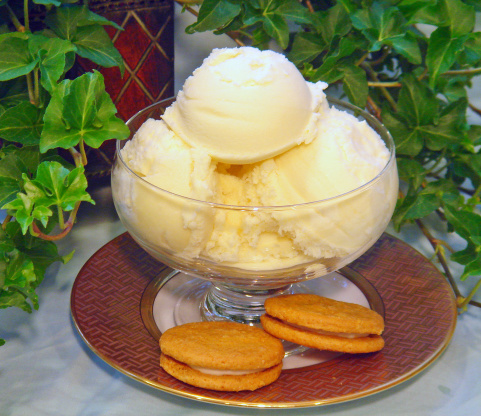 This recipe comes from the historic Old Salem Tavern in Winston-Salem, NC. No word on whether or not this frozen treat was served to George Washington when he visited (though I doubt it). This recipe is a bit involved, but I think you will agree it is worth the effort. This ice cream is especially good with gingerbread.

This ice cream delivers a lot of lemony flavor. However, I suggest eating it straight from the ice cream maker when at it's peak flavor. Somehow after freezing, this ice cream loses its creaminess and the flavor and texture become grainy. Out of the ice cream maker the taste is "knee-buckling" good ; )
First, make the custard. Simmer half-and-half and cream in a saucepan. Remove from heat and set aside.
Whisk yolks until light in color. Add sugar. Whisk together. Whisk warm cream into egg mix slowly. Put into a heavy saucepan. Heat and stir until thick enough to coat the back of a spoon. DO NOT simmer or boil the egg and cream mixture, as it will scramble. Cool to room temperature. Add vanilla extract. Refrigerate for about 5 hours.
Next, make the lemon curd. Put butter, sugar, lemon zest, 2 1/2 cups lemon juice, and salt into a double boiler. Heat until melted and the sugar is dissolved.
Meanwhile, whisk eggs. Slowly pour hot mixture from step 3 into eggs while whisking. Place the egg mixture back on the double boiler, whisking continuously. DO NOT simmer or boil. Cook until thickened.
Strain the curd and cool completely to room temperature.
Finally, assemble the ice cream. Run refrigerated custard mixture through an ice cream maker until it reaches soft serve consistency. Fold in the cooled lemon curd (which should be about 3 1/2 cups) and the 3 ounces of reserved lemon juice. Cover and freeze until very firm.