Redsie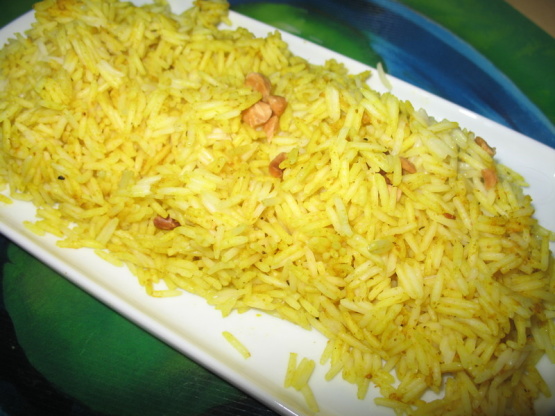 You can make this recipe as a subtle side dish or add some cooked broccoli, chicken, and red bell pepper for a main course meal. I actually make this curry a little hotter by adding more curry powder.

First and foremost, thanks to Geema for sharing a great combination of flavors with this recipe. We eat rice almost every single night, and at times we run out of ideas on what to do next. This paired perfectly with the jerk chicken we had last night. I'd be rating it higher, but I felt like the recipe suffers from technical failure. Any time you attempt to stir rice AFTER it is done cooking, especially to the extent of stirring in spices, powders etc. to form a homogeneous mixture without adding any liquid, you risk destroying the rice. I rinsed my rice prior to cooking and gently folded the spices into the rice per the recipe, and without much effort the rice was destroyed (even using a rice paddle). I'm not sure if there's a reason for withholding the curry powder, garlic salt, etc., until the rice is done cooking, but I'd suggest mixing this in at the same time the rice is added. Stirring once more while the rice is mid-way through cooking will likely keep everything blended well. Great recipe, just a heads up so you don't end up with a pile of broken rice.
Heat the broth, and lemon juice in a medium saucepan until boiling.
Add the rice, stir, and turn heat to low.
Cover and simmer for 15-20 minutes until rice is tender and liquid is absorbed.
Remove pan from heat.
Stir in lemon peel, curry powder, garlic salt and pepper.
Cover and let sit for 10 minutes.
Fluff rice lightly with fork and sprinkle with the toasted almonds and ginger.