Lemon Curd (Stove Top or Microwave Method) Lime or Orange Curd
Rita~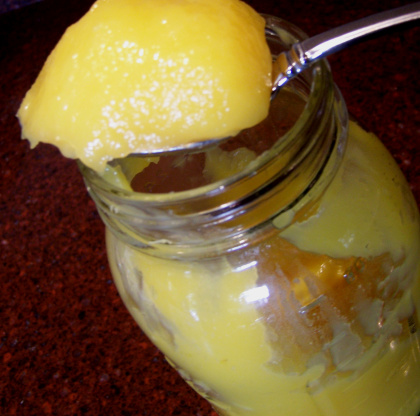 A British tea time favorite. This is sweet and tart. Try it on scones, muffins, and tea breads or layer on Angel Food cake with Raspberries and Creamy Cheesecake! I've also microwaved this just watch and stir a lot. For orange or lime curd, substitute appropriate fruit rind and juice. Proceed as directed. FYI- When filling a cake with this be sure to pipe a rim of frosting on the edge of the first layer, then fill inside with the chilled lemon curd, place top layer then frost.
I have just finished this recipe on the stovetop. Great instructions - I chose to strain the butter mixture to remove the zest to give a smooth finish to the curd. I also used electric mixers to beat the eggs together and cooked it for exactly 11 minutes on medium heat. I noticed that there was a foam on top that once it thickens and is done disappears -so that is a guideline to when its cooked. I got 2 jars and a ramekin full of it out of the recipe. Thanks
Stove top Method:.
In a medium saucepan over medium-high heat, combine lemon zest, lemon juice, and sugar.
Bring just to a boil; reduce heat to medium-low and simmer 5 minutes.
Add butter and stir until it has melted and combined.
Remove from heat and cool to room temperature.
Beat eggs into cooled lemon mixture until well blended.
Return to heat and cook over medium-low heat, stirring constantly, 10 to 15 minutes or until mixture thickens and coats spoon.
Remove from heat.
Cover and refrigerator at least 1 hour.
Microwave Method:.
Place butter in a large glass measure or bowl. Microwave on high for 10 seconds or until the butter is soft, but not melted.
Whisk in the sugar, lemon rind and lemon juice. Add the whole eggs and yolks and blend well.
Cover with parchment paper and microwave on high for 3 minutes, stirring well after each minute or until mixture thickens and coats spoon.( May need more time for all microwave ovens are different so be sure it coats the spoon as for a custard!).
Cover and refrigerator at least 1 hour.
Pour into a sterilized glass jar(s) (jam jars are perfect) and leave to cool.
Store in the refrigerator.