Lemon Curd and White Chocolate Filled Scones
Prep 25 mins
Cook 20 mins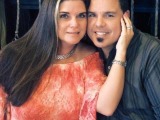 The combination of the tart lemon curd and the sweet, white chocolate is perfect! The scones are nice and crusty on the outside and tender and buttery inside. Note: For the lemon curd I used Kittencal's Easy Lemon Curd-after you take this off the heat make sure to keep stirring until cooled or it will turn into scrambled eggs!
Directions
Preheat oven to 400 degrees F.
Lightly spray one cookie sheet with non-stick cooking spray.
Mix together flour, sugar, baking powder and salt in a large mixing bowl.
Cut in cold butter with a pastry blender or with 2 criscrossing knives, until mixture resembles fine crumbs.
Stir in buttermilk, ginger and white chocolate chips (or chunks) until dough leaves side of bowl and forms a ball.
Divide dough in half.
Place half of dough on prepared cookie sheet; use a little bit of flour to make it easy to pat or roll into a 7-inch circle.
Spread lemon curd over dough to within 1/2-inch of edge.
Again use a little bit of flour to pat or roll remaining dough into a 7-inch circle; gently place over lemon curd.
Gently pinch edges to seal.
Sprinkle top with coarse white sugar, if desired.
Cut surface of dough into 8 wedges, making cuts 1/4 inch deep (do not cut into lemon curd).
Bake in preheated 400 degree F oven for 18-20 minutes or until golden brown.
Let cool for 5 minutes before drizzling melted white chocolate over top.
Topping:.
Melt white chocolate and drizzle over top of scones in a zig-zag design.
Cut scones into wedges.
Serve warm or at room temperature.
Store scones in an airtight container at room temperature.
*Note:.
Melting Chocolate.
Melt chocolate in the top of a double boiler over hot, not boiling, water (too high a temperature changes the flavor and color).
Speed up melting by first cutting the chocolate into small pieces, so that more surface area is exposed to the heat.
Stir chocolate constantly while melting to keep the temperature consistent throughout.
TIPS: Make sure the melting pan does not touch the water in the bottom pan or it will become too hot.
Most Helpful
Incredible scones! I made this for a dear friend when I invited her over for coffee. The only problem I had was the top part slid off a little. Not to worry, I just pushed it back in place! I'll be making this again, for sure. Thanks!
A really really wonderful recipe. I didn't change anything. They turned out tasting like something from a bakery. Thank you so much for a recipe I will be continuing to make.
These scones are to die for!!! I loved the lemon curd/ ginger/ white chocolate combination. These were almost like a cross between a cake and a scone, very moist with a bit of tang from the lemon. I had to use skim milk and half and half with vinegar in place of the buttermilk and also added a couple of tablespoons of flour. If you love scones, biscuits, bread, or lemons, you'll love this recipe!