Redsie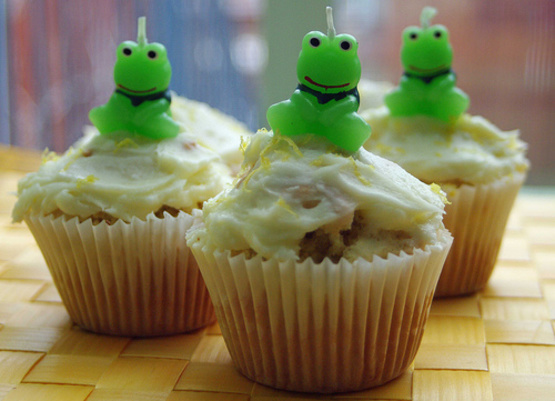 Adapted from Cupcakes, Cupcakes and More Cupcakes! The icing makes more than for 12 cupcakes - unless you love icing!! Halved the recipe of the icing for my family!
The batter was thick like cookie dough instead of like cake or brownie batter. I tasted it with the frosting and without and I like it better without the frosting. The cupcakes came out more scone like instead of moist-like cup cakes. I would make it again for breakfast scones and add blueberries.
Preheat the oven to 325°F Insert liners into medium cupcake pans.
Prepare cupcakes. Melt butter and lemon zest on low heat; the heat helps release the flavors and spice the butter.
In a bowl, sift flour, baking powder and salt.
Place eggs and sugar in a mixing bowl, beating on medium speed.
Gradually add in the dry ingredients, alternating with the melted butter and mix until mixture is light and airy.
Fill the cupcake liners two-third full.
Bake for 20-25 minutes or until cupcakes are springy to the touch and a toothpick inserted in cupcake's center comes out clean.
Remove from oven and cool on wire rack for 10 minutes.
Prepare glaze: in an eletric mixer,beat butter with powdered sugar and lemon juice until frosting is integrated and smooth (add 1 more tablespoon of lemon juice for creamier texture if desired).
Using a spatula, spread frosting on each cupcake, decorating with lemon zest.