Bev I Am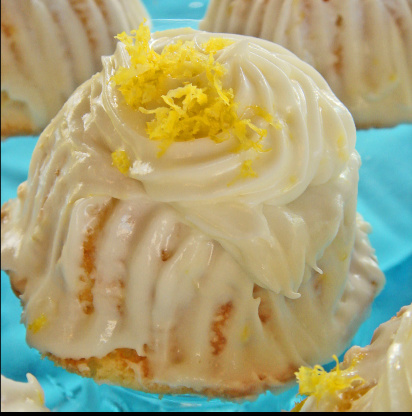 Lemon desserts are for me what chocolate desserts are for chocoholics. These are mildly rather than aggressively lemony. I figure 7/8 cup flour by filling a 1 cup measure, then removing 2 tablespoons. 1 Tbs grated lemon zest is approximately one lemon's worth of peel. By the way, the frosting is also good on carrot cake.

These cupcakes are fabulous! I increased the amount of zest in both the cake batter and icing from 1 tsp to 1 TBS, added 1 tsp of lemon extract to the batter and added the juice from one medium-sized lemon to the icing (increasing the amount of confectioner's sugar by 1 cup). The flavor of these cupcakes is a wonderful hit of lemon! The texture of the cake is light and moist! By adding the lemon juice to the icing gives the perfect amount flavor to the overall product! This recipe will definitely go into my special do-again cookbook!! Thank you, Echo echo!
Beat together the butter, cream cheese, lemon zest and sugar, then beat in eggs until smooth.
Gradually add the flour, baking powder and salt to the cheese mixture and beat with your mixer on low speed until just combined.
Divide the batter evenly between 12 cupcake cups that have been lined with paper cupcake liners.
Bake at 325F about 25 minutes until firm to the touch.
While cupcakes are baking, make frosting by beating the frosting ingredients together until smooth.
Let cool 10 minutes in pan, then transfer to a wire rack.
Frost when cooled.