Lemon-Cream Sandwich Cookies
TaterBug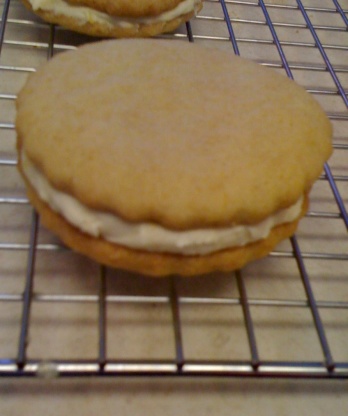 This is a terrific and addictive recipe for the best lemon cookies that you will ever put in your mouth. I can't take credit as this recipe comes from Citizen Cake in San Francisco. Enjoy!! These are well worth the work. This recipe can make 30+ cookies. It reall depends on how you cut the cookies and how much filling you add.
Filling:.
Using the back of a spoon mash lemon zest and salt to a paste in a medium bowl.
Add butter. Using an electric mixer, beat until fluffy.
Add powdered sugar in 4 batches, beating after each addition until well blended.
Cookies:.
Boil lemon juice and lemon zest in small pan until the mixture is reduced to two tablespoons, this takes about four minutes, watch it closely.
Pour into a small bowl and let cool.
Sift flour, salt, and baking soda into a small bowl.
Using an electric mixer beat butter in a large bowl until fluffy.
Add sugar, beat until well blended.
Beat in two whole eggs, one at a time, then beat in two egg yolks.
Beat in lemon juice mixture.
Add in dry ingredients and stir until well blended but do not overstir!
Cover dough and chill until very firm, at least four hours and up to one day.
Preheat oven to 375°F Line 2 baking sheets with parchment paper.
Roll out dough on lightly floured surface to scant 3/8 inch thickness.
Using 2 inch round cookie cutter, cut out cookies.
Transfer cookies to baking sheets and bake one pan at a time for best results.
Bake for 12 minutes or until edges are golden brown.
Transfer to racks and cool completely, repeat with remaining dough.
Spread 2 tablespoons of filling on the flat side of one cookie. Top with another cookie.
Repeat process to make your sandwich cookies.
Can be made 2 days ahead.
Store airtight in the refrigerator.