Lemon Cream Dressing (Raw Vegan)
Prose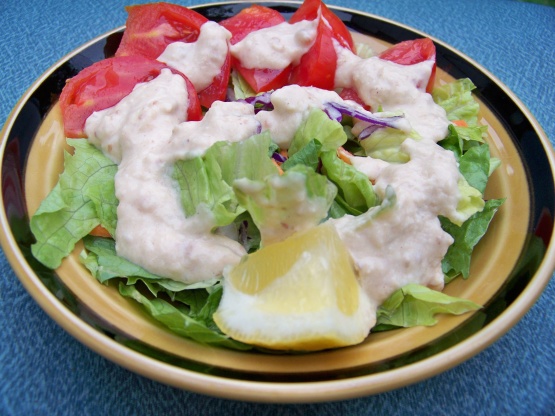 (LFRV) Oh I love this dressing!!! I've had it three nights in a row and I'm thinking about it right now. I pour this over baby greens, celery, cucumbers, and shredded red cabbage and I think its quite magical!! This recipe is for one serving so multiple as needed. You could easily add any herbs or spices you want but this is perfect for me!

Great flavour combo, love the use of dates and how easy and wholesome the recipe is. I was able to soak the dates for nearly an hour and chopped them pretty well so they blended up nicely. Felt it needed a little seasoning, but aside from that, made as written. In fact I doubled the recipe thinking I'd have some for tomorrow...but it didn't last ;) Enjoyed with some bibb lettuce salad, and then over some hot boiled rice which was really delicious. Thanks Minde, always enjoy your recipes and I'm sure I'll be making this (and versions of it) many times.
I don't juice the lemon - instead I just slice it up minus the peel and throw it in a super small food processor (blender works as well), blend it all up, and pour over the salad!
Sometimes my date isn't even blended all the way in and it really doesn't matter - still delicious!