Lemon Cream Chicken With Pasta
Denny C.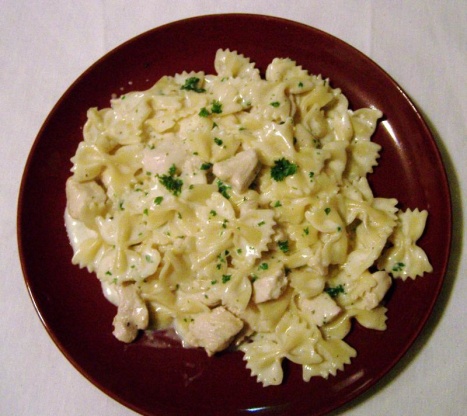 A friend of mine once prepared this for lunch and I loved it. I asked her for the recipe and I was surprised at how quick and easy it was to prepare. I believe she got the recipe from a weekly magazine.

I fixed this recipe for dinner last night and it was delicious. The taste of lemon was subtle and not overpowering and went well with the other ingredients. Some of the minor changes I made were I used dry rubbed sage (since that's all I had on hand) and so decreased the amount to 3/4 teaspoon. I used 3 large chicken breasts. Also, because of the conversion differences, I used 2 12oz packages of bowtie pasta, which is about 675-700g (the recipe calls for 500g). Again, because of the difference in quantity of the bowtie pasta, I increased the cream to 2 cups and the cornstarch to 2 tbsp. It came out perfect, very rich and creamy. Will definitely make again.
Bring a large saucepan of water to a boil. (If desired, add a little salt to the boiling water to season it.).
Add the pasta and cook till just tender. Drain well.
Heat oil in a large pan and fry chicken in batches till tender. Remove.
To the same pan, add the blended cornflour, stock powder, water, cream, lemon rind, lemon juice, sugar, teriyaki sauce, garlic and sage and stir until the mixture boils and thickens.
Add the chicken, cooked pasta and parsley.
Stir until hot.