Lemon Cream Cheese Squares
alligirl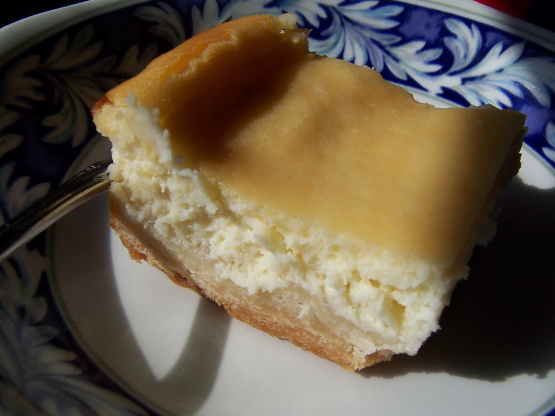 Portable cheesecake, rich and tart!Adapted from the All Butter Fresh Cream Sugar Packed No Holds Barred Baking Book by Judy Rosenberg!

We really enjoyed the flavor of these squares. They were lovely and light in flavor. I took a page from other reviewers and used parchment paper to line my dish. I also skipped the egg white wash, as it did seem unnecessary to me. My results were delicious! I will be so happy to share these with friends and family. Thanks so much for sharing another winner of a recipe, Sharon.
Preheat oven to 350*F. Lightly grease an 8" square baking pan with butter.
For the base:.
Process the flour and confectoner's sugar in a food processor for several seconds. Add the butter and process until the dough comes together, 20 to 30 seconds.
Pat the dough gently over the bottom of prepared pan and about 1" up the sides. Glaze it with the egg white: Pour the egg white on the dough and tip the pan from side to side so the white spreads over the surface. Pour off the excess.
Bake the base on the center oven rack until golden, about 25 minutes. Place the base in the refrigerator for about 15 minutes to cool completely. Keep on the oven.
Meanwhile prepare the topping:.
Using an electric mixer on medium high speed, cream the cream cheese, sugar, and lemon zest together in a medium bowl till light and fluffy, 2 to 3 minutes. Stop the mixer once or twice to scrape the bowl with a rubber spatula.
Add the sour cream and lemon juice and beat the mixture on medium high speed until smooth, about 1 minute. Scrape the bowl.
Add the eggs and vanilla and beat on medium high speed until smooth and creamy,about 10 seconds. Spread the topping evenly over the base.
Bake the bars on the center oven rack until the top is slightly golden and a toothpick inserted in the center comes out dry, about 1 hour. If the topping bubbles up during baking, prick the bubbles with a toothpick or a thin knife.
Allow the bars to cool completely on a rack. Cut them with the point of a thin sharp knife that is dipped in hot water and wiped dry before each cut.