Lemon Cranberry Oat Scones
Katzen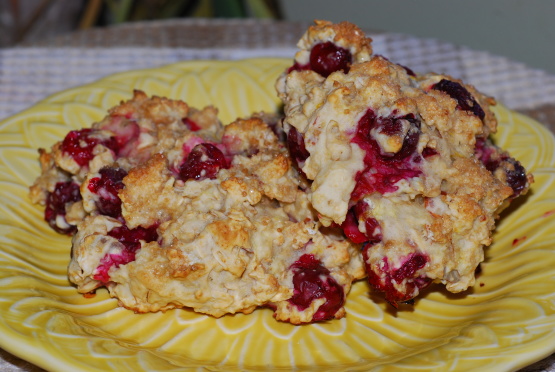 Yum. Made this recipe up this morning, based on my usual scone recipe, but I goofed with the amount of oats and it was a happy mistake! I hope you like them! I should note that this is a more healthy, grainy, scone, not a buttery & flaky one - DH & I have really come to enjoy this for a more stick-to-your-ribs scone. Edited Nov '10 to only fresh or frozen cranberries, as the moisture is essential to the scone's texture.

Now these are a nice change from the usual scones we have, & we definitely like 'em! I still had a bag of cranberries that hadn't yet made it to the freezer (I freeze a lot of bags over the end-of-the-year holidays!) so these were made with 'fresh' berries! I did use 2 Tbsp of the sugar as well as what I sprinkled on the top! Was also generous with the measure of lemon zest! Really a great recipe! [Made & reviewed in 1-2-3 Hits tag]
Heat oven to 400 degrees Fahrenheit.
Mix dry ingredients together (flour, oats, baking powder, lemon zest, sugar).
Stir oil into dry ingredients.
Mix in cranberries and almonds.
Add vanilla extract and milk.
Stir until the dry ingredients are damp and will clump together.
Drop into four mounds (six if you like your scones smaller) on parchment paper lined or greased baking sheet.
Sprinkle with course sugar, if using.
Bake for 20 minutes, until lightly browned.