HisPixie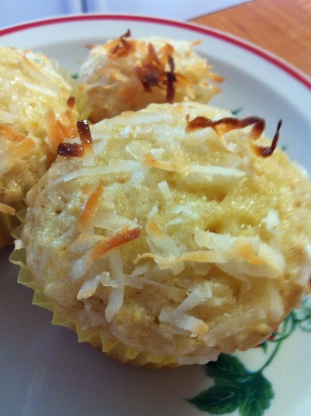 Adapted from Company's Coming - Mostly Muffins. The batter is a nice, fluffy, light batter. It scoops into the muffin cups easily. The final result is a touch crumbly but still tastes WONDERFUL. If you would like to, you can omit the oatmeal and increase the coconut by the 1/2 cup. That is how the original recipe was listed but I tried to make it a little lower in fat by decreasing the coconut.

Wonderful muffins! I make muffins every week for work and these are a favorite. I try to make low fat muffins and these were perfect. I added some lemon extract to the batter as I was short on lemon zest.
Measure first 4 ingredients into small bowl. Stir. Set aside.
Cream butter and sugar in large bowl. Add egg and lemon zest. Beat well.
Add flour mixture in 3 parts, alternating with milk in 2 parts, stirring after each addition until just combined. Fill 12 greased muffin cups 3/4 full.
Sprinkle with second amount of coconut. Bake in 375°F (190°C) oven for 18 to 20 minutes until wooden pick inserted in centre of muffin comes out clean.
Glaze: Combine all 4 ingredients in small saucepan. Heat on medium until boiling. Reduce heat to medium-low. Heat and stir for 2-4 minutes until starting to thicken. Carefully spoon over hot muffins. (This makes a mess of your pan. It is SO worth it though.) Let stand in pan for 5 minutes before removing to wire rack to cool.