Lemon-Cinnamon Chicken (Grill or BBQ)
Derf2440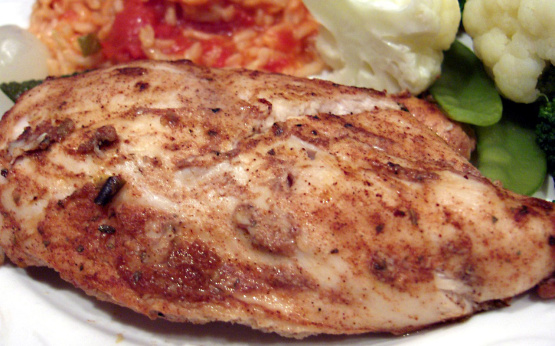 This recipe is from the magazine "Eating Well" and is a tasty low calorie way to prepare chicken. The cook time will vary depending on the size of the breasts

I am giving this a 4-star rating because my husband really liked it, but the taste wasn't really for me personally. It was VERY simple to make however!
In a shallow, non mettalic dish large enough to hold the chicken breasts in single layer combine the lemon juice, garlic, oregano, cinnamon, tomato paste& jalapeno.
Season with salt& pepper, stir to mix.
Place the chicken in the marinade, turn to coat evenly, cover with plastic wrap and place in fridge.
Marinate at least 2 hours and up to 8 hours Drain chicken and discard the marinade Grill or broil on a lightly greased rack Apprx 5-7 minutes each side or until done Garnish with lemon wedges and oregano, if desired.