Lemon Chili Shrimp Skewers
SEvans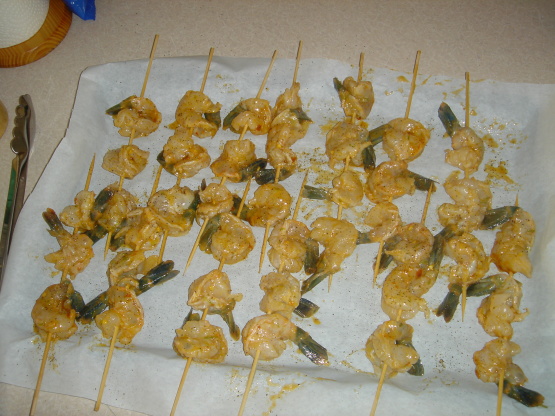 These shrimp skewers were spicy and delicious! DH and I were looking for a quick dinner tonight, with on-hand ingredients, that we could put on the grill. I've had this recipe in my queue a long time and should have made it sooner. We really enjoyed it and would definitely make again. DH and I ate all of the shrimp, so for us, this fed two. The only modification I made was to use Tobasco in place of Frank's hot sauce. I served with an arugula salad with manchego cheese, shallot and cremini mushrooms, drizzled with Cinnamon-Pear infused balsamic vinegar that I just picked up from Fustini's in Traverse City. Thanks so much for a quick, flavorful meal!
Combine all ingredients in a glass bowl and marinade for at least 30 mins - the longer the shrimp bathe in the marinade - the better.
Skewer the shrimp leaving a reasonable amount of space between them for even cooking.
Preheat your grill -
cook on Indirect heat for approximately 15 mins turning once . The indirect heat allows you to cook the shrimp longer without drying out.
Serve.
This recipe is pictured with my Apple Pear Salad in Edible Parmesan Cheese Bowls.
ENJOY !