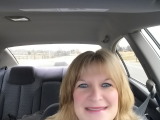 Don't try if you don't like lemon. WOOO HOOOO this is lemony and delicious. The graham cracker taste of the crust just compliments all the lemon flavor. I find that refrigerating overnight gives all the ingredients time to really have that taste a "chiffon" pie such as this should have. I got this recipe out of my Jello Brand Recipe Book years ago. Been making it ever since then. Hope you enjoy. :)
Directions
Stir boiling water into gelatin in large bowl at least 2 minutes until completely dissolved.
Stir in lemon peel and juice.
Mix cold water and ice to make 1 1/4 cups.
Add to gelatin, stirring until slightly thickened.
Remove any remaining ice.
Stir in whipped topping with wire whisk until smooth.
Refrigerate 20 to 30 minutes or until mixture is very thick and will mound.
Spoon into crust.
Refrigerate 6 hours or overnight until firm.
Most Helpful
I made this recipe for my family on Easter and everyone thought it was wonderful. It is the easiest pie I think I have ever made, the hardest part was making the graham cracker crust instead of buying one. I also made it with sugar-free jello for my diabetic husband and he thought it was Heaven on earth.
This was GOOD! Lemony, creamy, light, cool... wonderful! I have been looking for lemon chiffon for ages, (my brother loves the buffet restaurants and I like the lemon chiffon dessert at them) most recipes I've found are complicated and I thought 'it can't be that hard'. When I saw this recipe I knew I was on the right track. I made the filling without the lemon rind and served it with no crust. The bowl was scraped clean at the end of the meal and many commented on how good it was. I note one thing was that it didn't stay firm for me as a lemon chiffon should nor was it as yellow. Maybe there's the heat factor, it's about a hundred on average these days here, or the high altitude factor. I will make this again because it was really that good. I think I will decrease the amount of cold water I add and see if it holds firmer for me. Thank you for a wonderful recipe!
This was very easy to make and Cheap also, I think I spent $4 on ingredients! It is a very light dessert a perfect ending to the meal.