Prep 20 mins
Cook 10 mins
Southern version of chicken piccata. This mixes some of our family traditions and is always enjoyed.
Directions
Mix the flour, salt and pepper.
lightly coat the chicken with this mixture. Save the remainer of this mixture for later.
In large skillen, warm 1 Tbs of the oil over medium heat.
Add the chicken and brown on one side, about 5 minutes.
Add the remaining oil, turn the chicken and brown the other side.
Coarsely chop the onion, add the butter to the skillet, melt, then add the onion.
Stir in the remaining flour mixture, cook and strir until flour is completely incorporated.
Add the broth and 2 Tbs of the lemon juice and the thyme.
Bring mixture to a boil, stirring constantly.
Return chicken to the skillet, reduct heat, to low and cover.
Cook until chicken is completely done.
Stir the remaining lemon juice to the sauce in the skillet and pour over the chicken.
Enjoy!
Reviews
Most Helpful
I have been making this recipe for about 20 years - not sure where I got it - it's handwritten on a scratch piece of paper. Mine calls for 3 T. flour and 4 breasts. Thanks for posting!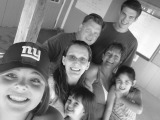 I found this one in Light & Tasty Magazine and was going to post here until I saw this one. The only change is the magazine recipe called for 4 boneless, skinless chicken breasts . I used only two breasts but made the whole recipe of the sauce. Very easy and delicious. It will go into our Tried & True folder.