Bergy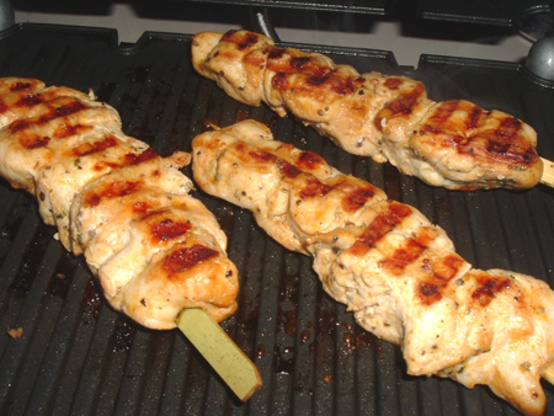 I had this in Greece and begged for the recipe to no avail. This is my version. I tend to allow the chicken to marinade overnight so that it is more tender and full of flavour. I serve them with green salad, tzatziki and bread. Great for a BBQ.

I've been preparing Chicken Souvlaki for some time now, and was pleased when I tried this lemon version. I used all the ingredients listed with the addition of Lawry's Seasoned Salt, a bit of garlic powder and fresh ground black pepper. The key to this recipe is in the length of the marinating time....6 hours with a few turns works for me.

I served this to people who are unfamiliar with this cooking genre, and they couldn't get over how flavorful and tender the chicken was. Thanks for posting this. Delicious.
Mix together the chicken, lemon rind, lemon juice, olive oil and oregano.
Marinate in the fridge for at least 1/2 an hour.
Skewer the chicken onto 6 metal or wooden skewers.
Grill for about 20 minutes turning frequently, adding the remaining marinade each time you turn them.
Sprinkle with the paprika and serve.