Oodb7377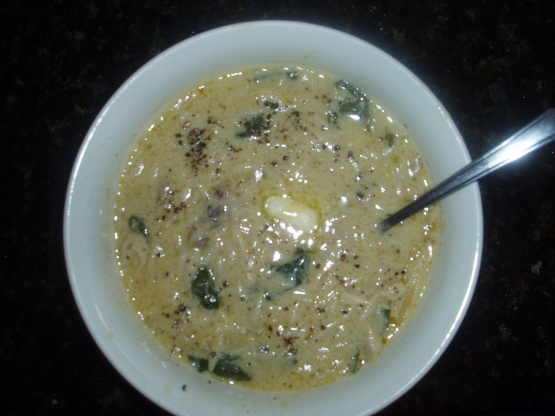 I had lemon chicken orzo soup at a Diner one day and absolutely loved it. I found this recipe online but never tried it yet. Hopefully its good. (I estimated the prep time because it really didnt say.)

Very good and easy to make... After looking through a couple other versions, I decided to add a couple handfuls of baby spinach, I had available, right before serving...instead of the parsley, which I did not, have... Was also very good, and added that needed dash of color, to the creamy yellow soup...
In a large Saucepan, bring the chicken stock to a boil.
Reduce heat to medium-low and add orzo.
Cook uncovered until tender, about 15 to 20 minutes.
Five minutes before pasta is done, add chicken.
Whisk eggs while adding lemon juice.
Stir in zest. Whisking constantly.
slowly pour a ladle of the hot stock into the egg mixture to temper.
Reduce heat to low and while stirring add the Egg mixture to the Soup(Soup should thicken slightly).
Add Salt and Pepper and Garnish with Parsley.