Lemon Chicken Fettuccine With Snow Peas
PaulaG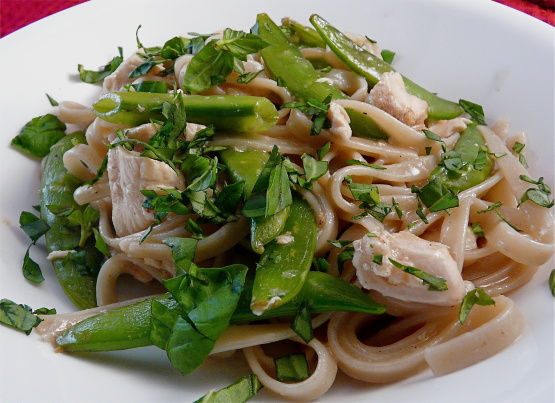 Clipped out of a magazine, this is a fresh chicken recipe that is ready in a flash!

Photo may be seen here (as Fettuccine With Snow Peas) in the Savor gallery: www.annacia.com. What a delicious recipe. I did skip the chicken but made all else by the recipe and the pasta was so yummy, I used the fresh snow peas (tagged this recipe to use some of them :D) and you wouldn't believe how good this simple sauce is until you taste it. For the protein I used stuffed crab in it's shell (had a lot of chicken lately, lol). The pairing worked beautifully and dinner was very well enjoyed. :D
Cut chicken into 1" pieces. Mince the garlic.
Cook pasta according to package directions. Drain and keep warm.
Heat oil in a large skillet over medium-high heat. Add chicken and garlic and cook, stirring frequently, for about 5 minutes until browned. Reduce heat to medium.
In a bowl, whisk together the broth, lemon juice, cornstarch, salt and pepper. Add to chicken in skillet. Heat to boiling; reduce heat and simmer about 2 minutes, until thickened, stirring frequently.
Add snow peas and cook 3 minutes longer.
Toss hot pasta with sauce and garnish with parsley.