Lemon Chicken and Asparagus Stir Fry
jrusk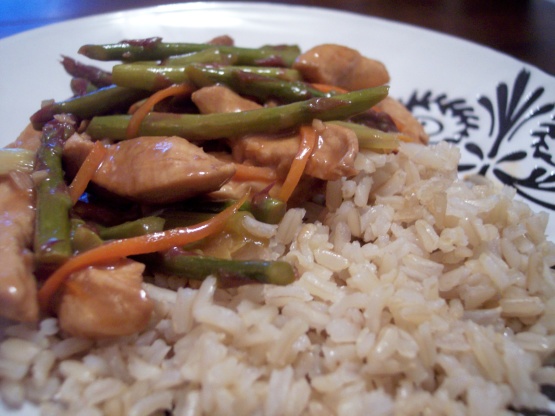 Very light and quick and delicious. You can use frozen asparagus if fresh is unavailable.
In a glass dish, stir together soy sauce, lemon juice, lemon zest and cornstarch.
Add chicken and coat well with marinade. Cover and refrigerate for 15 to 30 minutes.
Heat oil in a large, nonstick skillet over medium-high heat.
Add garlic and fry till softened.
Reserving the marinade, add the chicken, followed by scallions, asparagus, and carrot.
Stir-fry for 3 to 4 minutes, or until chicken is no longer pink.
Add marinade and cook until sauce is slightly thickened, about 1 minute.