Lemon Chicken and Asparagus Over Rice
Ricky 1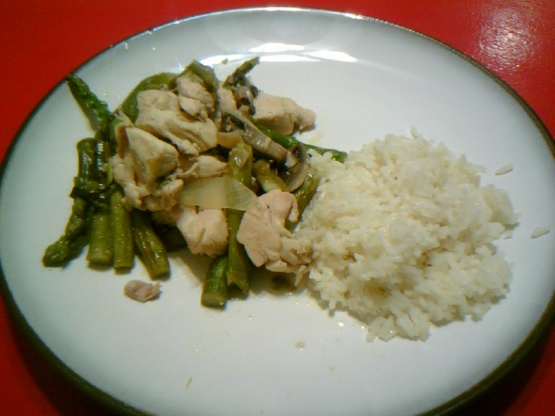 This a quick and easy, but light dish that has lots of flavor.

Just excellent CBettiga!! I used two boneless skinless chicken breast halves and did not change another thing. Delicious as is!! The veggies were especially good, not overcooked, tender crisp, just the way we like them. Used up some left over white wine which added a nice taste. This was quick and easy and we will be making it again and again. Thanks for sharing!!
In a large non-stick skillet, heat oil over medium high heat.
Season the chicken pieces with the salt and pepper and add to the skillet.
Cook the chicken until golden brown (about 5 minutes).
Stir in the garlic and red pepper.
Add the asparagus and mushrooms and cook for 1 minute.
Stir in the zest, lemon pepper, salt and pepper.
Add the liquids, bring to a simmer.
Cover and cook for 3 minutes.
Serve immediately over hot rice.