karen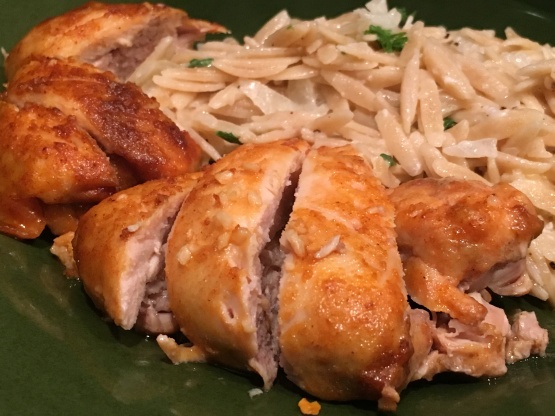 From the Woman's Day submitted by reader Pamela Stratford. I made this while on holidays and we enjoyed it and most of the time is in the cooking in the oven otherwise very little work needed.

5 stars for flavor and texture of the chicken. I needed more of the coating than the recipe made to cover all of the chicken but that wasn't really a big deal as it took about a minute to mix up more. I had extra of the oil and lemon glaze and just tossed it into the Jasmine rice that was on the go along with a touch of garlic. What a great combo they made! a green salad was all that was needed for a marvelous dinner. Thanks for this one Pay. :D
Preheat oven to moderate 180°C.
Line your baking dish with baking paper.
Combine flour, paprika, salt and pepper in a clean plastic bag and add the chicken and toss to coat (I just used a shallow bowl and dipped the chicken in the mix).
Arrange the chicken in a single layer in the baking dish and brush the chicken with butter and bake for 30 minutes.
SAUCE - meanwhile, in a small jug, combine all ingredients and season to taste.
Pour sauce over chicken and return to oven for a further 20 to 30 minutes or until chicken is golden and cooked through.
Serve with a salad of choice and prawn crackers, I served with mashed potatoe and steamed vegetables.