Ang11002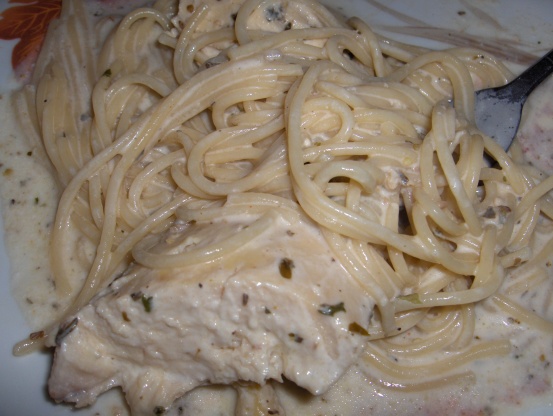 This recipe is from Taste of Home's Simple and Delicious Magazine. It uses everyday ingredients and is so simple, as it is cooked in a crock pot, and then the chicken is served with a sauce made also in the crockpot. I haven't made this yet, just posting for safe keeping. It suggest serving chicken over hot cooked brown rice.

I made this tonight and both of my guests really enjoyed it, as did myself and my son. The sauce was really thin but tasty. I would use chicken thighs next time and maybe increase the seasoning salt a tad. Thanks for a simple recipe. I hope you enjoy the pic. :)
Combine the oregano, seasoned salt and pepper rub over chicken. Place in a 3-qt slow cooker. In a small bowl, dissolve bouillon in boiling water. Stir in lemon juice and garlic. Pour over chicken. Cover and cook on low for 4 hours or until a meat thermometer reads 170 degrees.
Remove chicken and keep warm. Stir in sour cream and parsley; cover and cook for 15 mins or until heated through. Serve chicken with sauce and rice if desired.