lazyme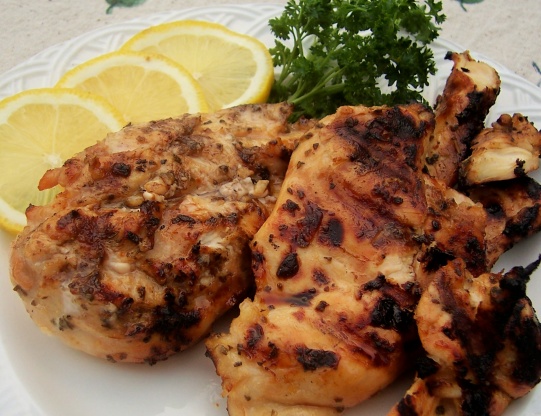 Boneless skinless chicken breasts marinated in a lemon marinade.

Had 2 boneless chicked breasts for DH and me for dinner -- and WHAT to do that was different !! Found you recipe in time to defrost the chicken AND to marinate for 30 minutes, before baking in the oven, at 400 degrees, - which was done in 25 minutes. We love lemon flavors in many things -- always crisp and fresh. I just put the marinated breasts in a small casserole. It even made Stove-Top Stuffing taste like more than a Thursday night meal. Thanks for posting.
Combine lemon juice, brown sugar, olive oil, garlic, and oregano.
Mix well. Can be made earlier in the day and refrigerated, and re-mixed prior to adding to the chicken.
Pierce chicken beasts with a fork twice on each side.
Combine chicken and marinade and let sit at room temperature (or refrigerated) for 20 - 30 minutes.
Preheat BBQ or Oven to 400 degrees. Cook on BBQ 8 minutes each side, or in oven approximately the same on a broiler pan to allow any fat or marinade to escape (time for both BBQ and Oven can differ from these times (i.e. BBQ - outside temp can affect the internal heat of the BBQ. General rule is to cook until juices run clear.
***This can also be made on an indoor grill if you have one. I've done that and it turned out great. You can probably broil it but I've never tried.