iris5555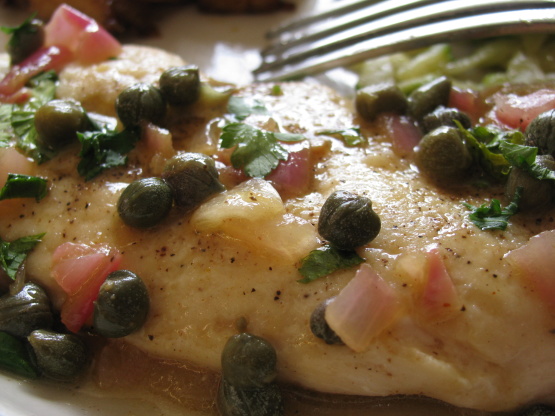 The perfect recipe for an intimate dinner.

I loved the whole wheat flour used in this recipe. I left out the shallots as I didn't have any and cut the recipe to one chicken breast for the two of use using all of the sauce ingredients. Just excellent and one I will make again. Thanks for sharing.
Warm oil in large nonstick skillet over medium-high heat. Pat chicken breasts with paper towels to thoroughly dry. Season chicken with salt and pepper, then lightly coat with flour, using about 1 tsp for each breast.
Lay chicken in skillet; cook 2 to 3 minutes, until golden brown, gently pressing down on breast to ensure equal browning. Reduce heat to medium. Turn breasts; cook 2 to 3 minutes longer, until golden brown and cooked through. Remove breasts to a serving platter.
Reduce heat to low; add shallots and capers to skillet. Cook 30 seconds, stirring. Add broth and juice, cook 1 minute, until incorporated and thickened, stirring. Stir in parsley, pour sauce over chicken. Serve immediately.