Lemon Cake With Lemon Cream or Raspberry Sauce
Redsie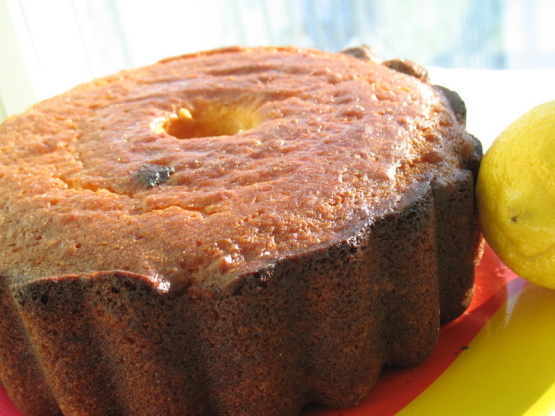 From A. Lindsay Light Cooking. Baking it as I write!! You can replace the extra-thick yogurt by yogurt cheese. Delicious moist cake with a nice lemon flavour - Made holes on both sides of cake to make sure all the lemon syrup went in - was worried it would be too sour - but not at all!! The sauce with the yogurt is great too! For all lemon lovers - got to try this!!

Really great, really great!! This is a wonderful tasting combination of lemon & raspberry. When I inverted the still hot cake, I used a much larger tool [my meat thermometer!] to poke deep holes in the top of the cake! Then I brushed the glaze over it time & again until it had all soaked in! As for the sauce, I wanted it ALL! I seeded one package of the berries & left the other berries whole, finishing off the raspberry sauce as per the recipe. THEN, made the lemon cream as well, & when I served the slice of cake, I included a drizzle of lemon cream along side a drizzle of raspberry sauce! Really, really good, & I can't thank you enough for this recipe!
In large bowl, using electric mixer, beat butter with sugar until light and fluffy; beat in eggs, yogurt and lemon rind. Mix flour with baking powder; beat into egg mixture alternatively with milk, making three additions of flour mixture and two of milk.
Spoon into greased and floured 10-inch Bundt pan. Bake in 350F oven for 50 minutes or until cake tester inserted in center comes out clean. Let stand in pan on rack for 5 minutes.
Glaze: Stir lemon juice with sugar until sugar is dissolved. Invert cake onto rimmed plate; using toothpick, poke 1-inch deep holes in top of cake. Brush glaze over cake. Let cool. Serve with lemon cream or raspberry sauce.
Lemon Cream: In small bowl, combine yogurt, sugar, lemon rind and juice, stirring well. Cover and refrigerate for 30 minutes or for up to 3 days.
Raspberry Sauce: Thaw raspberries; drain and reserve 1/2 cup juice. Press berries through sieve over bowl to remove seeds. Stir in enough of the reserved juice to make sauce consistency. Stir in sugar.