loof751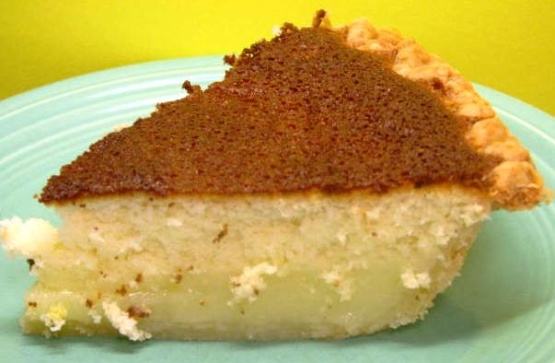 From Sunset cookbook. I love this! It's my favorite pie. You get a lemon curd on the bottom and a thin lemon cake on the top but it pours into the pie crust all mixed up! Please use fresh squeezed lemon juice. If you love lemon desserts, you'll love this!

I will update this review to include stars the next time I make it because I used Splenda (not Splenda blend) instead of sugar. I give my comments in case anyone else considers doing this... I loved the flavour of the filling, but instead of having two distinct layers, mine was more like a light chiffon cake with a lightly browned top after 40 minutes of baking. I would like to also have a curd layer, so I will experiment with a Splenda to sugar ratio to see if it could be acceptable for a diabetic diet and then rate if I achieve success.
1

9-inch deep dish pie crust, I use Marie Callender's frozen. No need to defrost. No need to prebake
1 1⁄2 cups sugar

2

tablespoons butter, melted
1⁄3 cup all-purpose flour
1⁄4 teaspoon salt
1⁄2 teaspoon grated lemon peel, I usually add more

5

tablespoons fresh lemon juice, please use fresh

3

eggs, separated
1 1⁄4 cups milk, I use 2%
Put rack on lowest position in oven.
Preheat oven to 375.
In a medium bowl, stir together melted butter and sugar.
Stir in flour, salt, lemon peel and lemon juice.
In a small bowl, beat egg yolks with milk until well blended, stir into lemon mixture.
In another medium sized bowl, beat egg whites with an electric mixer until they hold distinct but moist peaks. Gently fold egg whites into lemon mixture. (Don't mix it too much.).
Pour filling into pie crust.
I always end up with more filling than will fit in the pie crust so I put it in a couple ceramic rammekins and cook it along with the pie.
Bake on the lowest rack of the oven until the top is browned and the center jiggles only slightly when pan is gently shaken (45-55 minutes). If the crust begins to brown excessively, drape it with foil.
Let cool before serving. But it's good warm too!