Lemon Buttermilk Pudding Cake With Fresh Berries
katew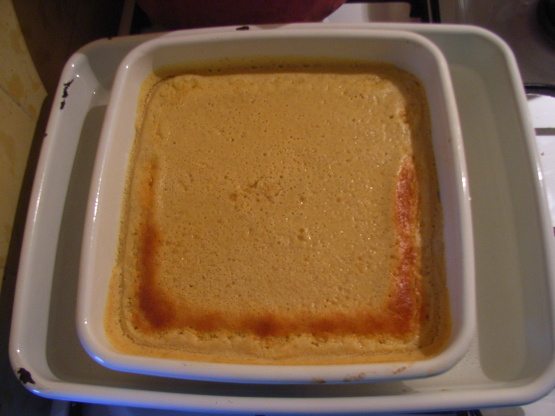 Lemons are hot in the food world this year! Meyer lemons are a cross between a lemon and an orange. If not using Meyer lemons, use half orange juice and 1/2 lemon juice. Recipe originated from Europe(England). Lemons are grown in the South and the tropics, so this is also a Caribbean and Southern recipe!
1 1⁄2 cups buttermilk

1

cup sugar, divided

4

large egg yolks
1⁄3 cup fresh meyer lemon juice (If not using Meyer lemons, use 1/2 lemon juice and 1/2 orange juice-Mandarin orange juice, if possib)
1⁄4 cup flour
1⁄4 cup butter, melted

1

pinch salt

3

large egg whites
whipping cream
assorted fresh berries
Preheat the oven to 350*F.
Butter a 8"x*"x2" glass baking dish. Blend buttermilk, 1/2 cup sugar, egg yolks, lemon juice, orange juice if using, flour, butter, and salt in blender until smooth. Move the buttermilk mixture to a medium bowl. Using an electric mixer, beat the egg whites in a large bowl until soft peaks form. Gradually add remaining 1/2 cup sugar and beat until stiff but not dry. Gently fold buttermilk mixture into whites in 3 additions(batter will be runny).
Pour the batter into the prepared glass dish. Put dish in a roasting pan. Pour enough hot water into roasting pan to come halfway up the sides of the dish. Bake until entire top is evenly browned and the cake moves slightly in center but feels slightly springy to touch, about 45 minutes. Remove dish from roasting pan.
Cool cake completely in baking dish on rack. Refrigerate until cold, at least 3 hours and up to 6 hours. Spoon the pudding cake out into shallow bowls. Pour cream around cake. Top with berries and serve. Enjoy!